Despite of the mounting post-covid sanitary protocols, Accuro Mauritius has come forward to help Austism Mauritius through their social committee. Accuro Mauritius proceeded with the donation of school materials, in the presence of their Managing Director Mr Gordon Stuart, the employees of Accuro Mauritius and the employees of this specialized institution, situated at Quatre-Bornes.
In his speech, Mr Gordon Stuart has furthered his engagement and that of his company to contribute to the betterment of the community through its social committee. He also added that since Accurro has strong family values, this was the perfect opportunity to give back to our children with special needs. M. Gordon left no stone unturned to celebrate the good work of the teachers and administration of this specialized institution. Accuro Mauritius brought about a humble contribution by donating school materials and tactile games to the children for their daily activities.
The Director of the school, Mrs Geraldine Aliphon, seized this opportunity to thank Accuro for their contribution, especially after the post-covid situation. Today we talk about the importance of inclusive education where every learner should benefit from the same learning opportunities carried out in a common learning environment. Our autist children need even more resources and a more specialized education platform.
A small get-together was held in the school's yard where the employees of Accuro Mauritius had the chance to taste the delicious dishes prepared by our children with special abilities. It was in a pleasant and bubbly atmosphere that this event was carried out.
Please do not hesitate to contact Autism Mauritius on +230 428 0158, if ever, you want to donate.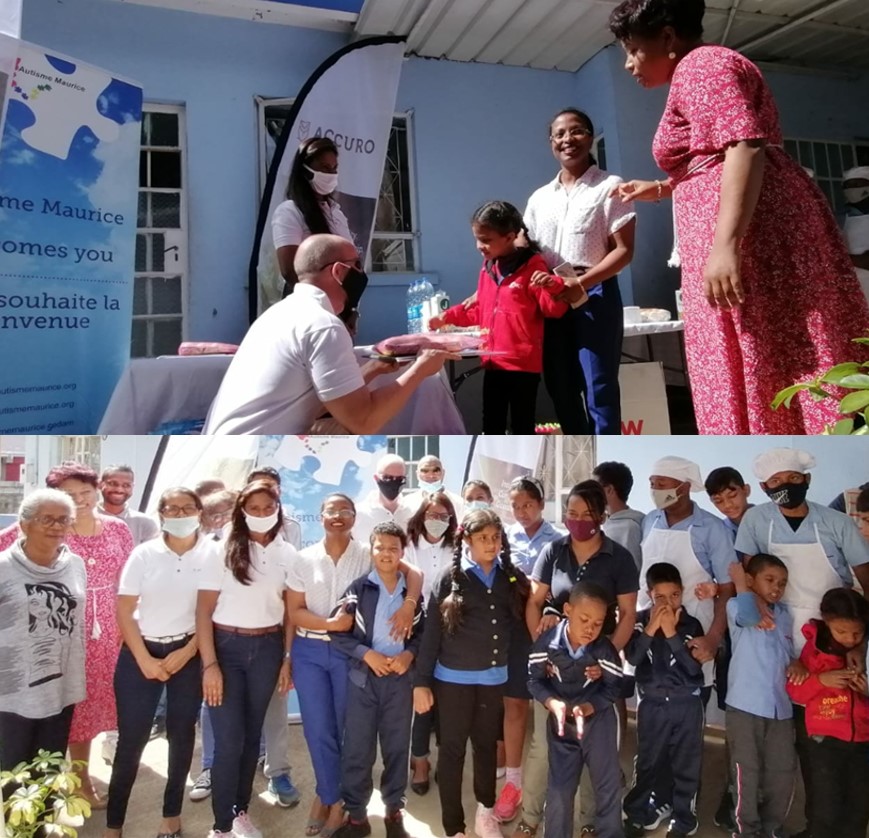 Accuro Mauritius and Autism Mauritius