We consider our responsibility to people and the planet to be incredibly important, with sustainability and purpose at the heart of our strategy and culture.

An example of this is the financial support for a number of charities with projects based in East Africa, facilitated via a family trust structure that Accuro Trustees (Jersey) Ltd acts as trustee to.

Accuro colleagues Mark Pinnick and Alex Zomparelli recently visited some of the charities and projects being supported to see first-hand the difference being made to local communities through funds Accuro has provided in its capacity as trustee. Mark and Alex were also joined by a member of the Grant Committee, a group which was established to provide recommendations to the trustee on potential charitable projects. 

The three selected charities projects (Action Aid, Amref and Brooke East Africa) all exist to do good, and while they do so in very different ways, ultimately have a common goal of support and empowerment.

Action Aid – Access to Justice

This project has brought together survivors of gender-based violence and intimate partner violence to give them a voice and a safe space to share their experiences. It also assists in providing legal, emotional and practical help and advice with local community leaders, law enforcement and health professionals.

Amref – Community Led Alternative Rights of Passage and Water Sanitation and Health

Amref's mission is to increase sustainable health access to communities in Africa through solutions in human resources for health, health services delivery and investments in health. Its water tanks project involves the building of water tanks in rural pastoral communities of the Maasai which allows water to be channelled to households and schools, eliminating the need for women and young girls to walk for many miles just to fetch water. The water tanks project allows Amref to be accepted by and talk to members of the community including the elders, facilitating education with the goal of changing practices such as female genital mutilation, and long held cultural issues such as teenage pregnancies and child marriages.

Brooke East Africa – Action for Working Horses and Donkeys
This charity works on the frontline with donkey-owning communities, funding community-led initiatives to protect their donkeys and adding resources on the ground to expand lobbying for animal welfare and community engagement. Young members of the donkey users and owner community groups shared their stores about how the charity has given them economic empowerment and allowed them to get away from the lure of drugs and alcohol dependency by organising sports such as football.
Accuro's Alex Zomparelli said in relation to all of the projects visited, "Despite hearing some heart-wrenching stories, what shines though is a huge sense of optimism for the future. The optimism and positivity displayed by the survivors of gender-based violence and intimate partner violence is hugely inspirational. Providing economic empowerment has encouraged small shoots of entrepreneurialism to spring up and help local communities to develop their own businesses – from forming groups to care for and support working donkeys, to survivors of violence making and selling homemade products, putting together business plans and taking products to market. All of which empowers people to support themselves and become more financially independent."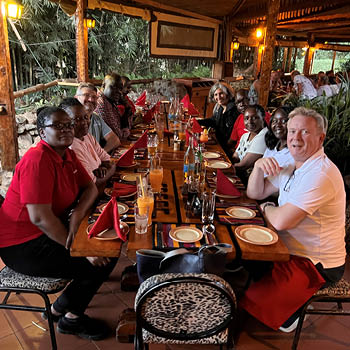 As well as visiting the projects in the communities, the team were also able to spend some time at the offices of the respective charities. This provided a valuable opportunity to obtain an overview of the governance procedures on the ground that each charity maintains, and it was clear from the outset that the in-house capabilities of each charity would not be out of place in a FTSE 100 listed company. There were very strong processes and procedures together with in-house accountants, internal compliance, IT resources as well as teams to carry out their own checks and balances on the partner organisations they work with.

This has also allowed us, as representatives of the trustee, to see how the charities we support apply funds in the most practical and value for money way whilst still adhering to their respective internal policies and procedures. It also provides excellent first-hand accounts and evidence which can be used for our discussions with our own financial regulator, the Jersey Financial Services Commission, as part of their National Risk Assessment (NRA).  Additionally, it has provided the opportunity to deepen our understanding of the charitable work carried out and our relationship with the Grant Committee members and the family that established the structure.